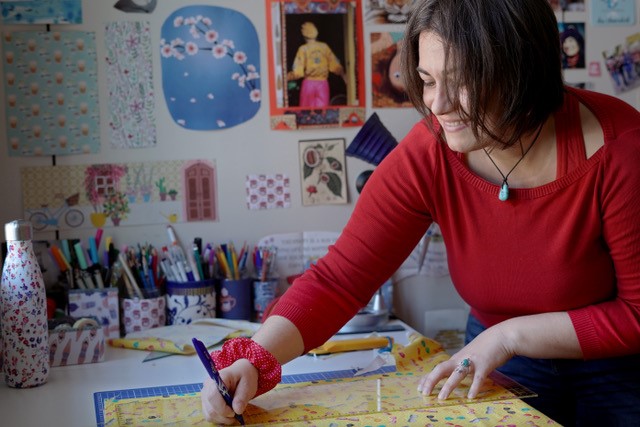 Community
TINY DOT: COLOURS AND SUSTAINABILITY
Until the beginning of 2020, Lorenza Mazzoni used to work in the tourism industry and, for this reason, she travelled a lot. With the outbreak of the pandemic, the sector she used to work for basically stopped and she, therefore, decided to reinvent herself. In this interview, we will discover how Tiny Dot Zero Waste was born, a combination of young female entrepreneurship, craftsmanship, and attention to sustainability.
How was Tiny Dot born?
Tiny Dot was born with the outbreak of the pandemic: after a month of lockdown spent at home, I picked up my sewing machine and thought I'd make a real job out of it. I had been sewing for a few years already, I am self-taught, and until that moment my creations were intended as gifts for friends and family.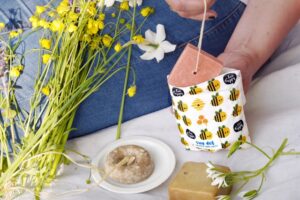 Which are the ethical values of the project?
I have always cared about sustainability and, with the pandemic, I felt, even more, the need to take action and have a positive impact on the planet we live on. Also before founding Tiny Dot, I  created reusable bags for storing food or for bulk grocery shopping. The goal is to create products that replace the use of plastic and all disposable products, to protect the environment and all its inhabitants.
Why did you choose the name 'Tiny Dot'?
One day I was reading a magazine called "Flow" and I stumbled upon an article about the overview effect, which is the feeling that astronauts experience when looking at the Earth from space. The article explained that, by seeing the planet as a small dot in such an extended universe, astronauts feel the strong sensation of belonging to the world they come from and the desire to protect it. I immediately thought that this is the feeling that guides and motivates me in producing my creations, and so Tiny Dot was born.
How do you design the prototypes and what material are the products made of?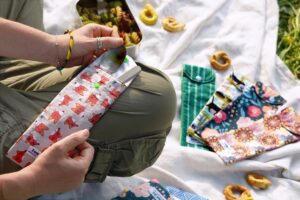 The design of my creations comes from personal experiences and everyday needs. I also get advice from friends and family to create products that are useful in everyday life. I use GOTS and OEKO-TEX certified organic fabrics, which are completely free from harmful substances, but I also use scrap fabrics. What I look for during the selection of the fabrics is colour: I think that if a product is 'nice to see', it is more likely to be used for a long time.
Let's talk about the beginnings: how did you start putting this project into practice?
I started my micro-enterprise by creating the first prototypes of the products and talking about them on social networks. Through social media, I got to know many people, businesses, and associations which work in my industry, both nationally and internationally. Then, I started reading a lot and taking courses for women funded by the European Union on social media management, editing, photography, and marketing campaigns, and, slowly, I made my way into this world which was completely new to me.
Comparing with what you used to do before Tiny Dot, your life has literally changed: what are the difficulties you have encountered?
I must admit that I like changing and jumping into new adventures, also as I adapt easily. With the beginning of the lockdown, I was able to take some time for myself, in order to assimilate what was happening, and I adapted to the new situation without haste. Despite this, I must admit that being able to manage your time is not always easy, especially if you have to cover all the roles of the business yourself: I am the artisan, promoter, social media manager and I also created the Tiny Dot logo. I also face some difficulties with the bureaucracy but, as I dedicate my time entirely to a project I believe in, I have the right motivation.
Did you have any difficulties as a young female entrepreneur?
So far, I have not encountered any major difficulties as a woman, mainly because I am developing the project alone. However, from a psychological point of view, it is hard sometimes, because of the education I received as a woman. In particular, I feel I always have to be 'accommodating and kind'. On some occasions, when I had disagreements with collaborators, I found it difficult to express my dissent for fear of hurting the other person's feelings. But then I realised that my criticisms were completely legitimate and that I must remember that I am the boss of my project!
What advice would you give to those who would like to undertake a path like yours?
My decision was somewhat helped by the outbreak of the pandemic, so I must admit that it's not easy for everyone to quit a secure job and embark on a new adventure. With that being said, I think that, if you have a dream, you have to study, get informed, read and work hard to achieve it. However, it is essential to keep visualising the goal and trying to achieve it actively. I also recommend asking for help while doing all of this, you will surely find someone willing to share their experience and knowledge. Last but not least, it is necessary to remember that our time is more important than anything else.