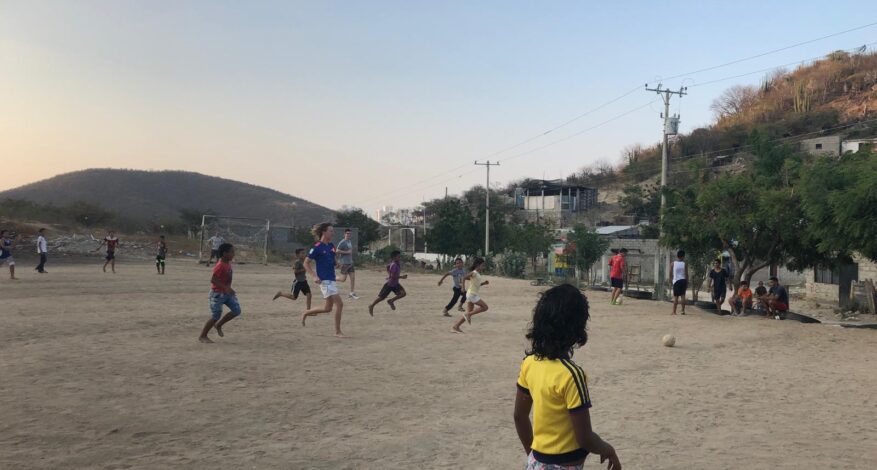 America
FINDING HAPPINESS IN SIMPLICITY
A volunteering experience in Colombia
Golden dust floats through the air as the motorcycle roams the dirt road that starts just off the busy highway in Santa Marta, Colombia. Some old ladies sit in the shade outside their tiny houses to escape the unbearable heat of a February afternoon; chickens, cats, and stray dogs chase each other in the middle of the road: we have to be careful not to run them over. From the backseat of the motorbike, I see it all: the people, the colours, the chaotic mixture of dirt and nature, the rare flowers sprouting out of the arid land. I turn around to look at my friends who are riding behind me: they smile back at me in amazement. It is blissful.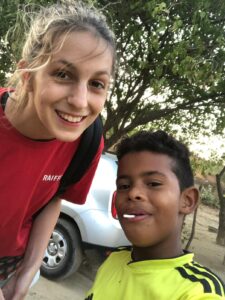 My name is Laura and when I think of the two months I spent volunteering at "Colombia sin Fronteras", I always remember this very first image of my arrival. I was astonished as I hopped off the "moto-taxi" — a service specifically provided for the volunteers to reach the school — to be welcomed by loud-cheering children eager to meet their new professors. In the middle of the disadvantaged neighborhood of Gaira, in the district of Magdalena, "Colombia sin Fronteras" offers a safe space for children and teenagers aged 5 to 18 to spend their time before and after school. As a non-profit organisation, it promotes the education and social integration of its members through lessons and cultural activities run both by local teachers and volunteers coming from abroad. It also provides fundamental nutritional sustainment for the children: not all of them are ensured a proper meal when they get home, but, at the organisation, everyone receives a glass of water and a snack at every mid-morning and mid-afternoon break.
Teaching and recreational activities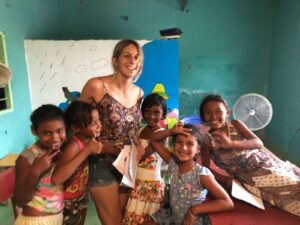 I was in charge of the girls, and the male volunteers were in charge of the boys. I was nervous about my first lesson: I had taught English to adult students before, but never had I taught children, and definitely not in Spanish. But with the help of other kind volunteers, I got the gist of it: we would plan lessons in the morning and cover subjects such as geography, math, Spanish, or science; we would play games and draw pictures. I could recognise the children's bewilderment when we pointed at the map to show where we came from: places as diverse as Switzerland or Australia made them dream of far-away lands and possible futures.
Some days, all the volunteers would come together to give English lessons to teenagers and to a group of university students, some of whom had made it into higher education thanks to the economic and educational support of the charity. Despite the lack of material at our disposal, everyone showed great interest and commitment: everyone wanted to learn and build new skills for themselves.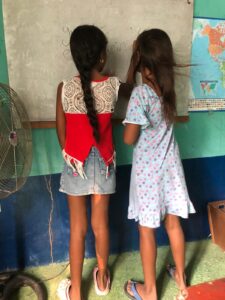 And then, of course, there was football: every school day had to finish with a match before sunset. The children would beg the headteacher for their half-inflated football and then grab our hands and run to the football field, which was nothing other than a large space dangerously encircled by barbed wire. The nets of the two soccer goals were half-destroyed, hanging lazily from one side only, and there were no sidelines on the whole field. Most children would play in flip-flops, and some of them did not even own a pair of shoes: I was always worried that they would step on the barbed wire. But they never did, and they would all run excitedly around the field, cheering for each goal as no one knew what team they belonged to. They were happy.
Discovering simplicity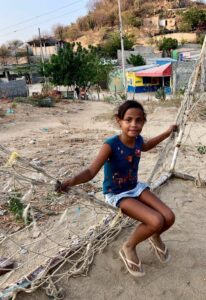 When I remember my time at "Colombia sin Fronteras", I think that I have received way more than I have given. I saw and experienced happiness in simplicity, familiarity in difference, and a sense of community and care for others that I had never known before. Being detached from my day-to-day reality and discovering a completely new world was both enriching and liberating, and I will forever cherish the change of perspective it gave me. I still can hear in my head the loud cheering of the children and the music that would rise from the houses around the school.
There was always music in Gaira.